Den 4. maj 2007 blev byen Greensburg i Kansas med godt 1500 indbyggere jævnet med jorden af den første EF5-tornado nogensinde.
12 personer omkom, og mange blev kvæstet.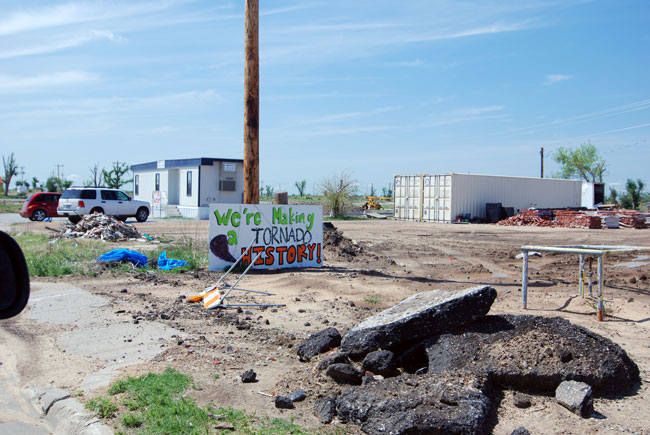 Jeg stod ikke langt derfra og så hele dramaet udspille sig.
Den 4. maj 2007 er forholdene særligt gunstige for dannelse af meget kraftige superceller med tornadopotentiale.
Varm og fugtig luft blæser fra Den Mexicanske Golf op over Midtvesten. Samtidig er jetstrømmen særligt kraftig, og der er høje cape– og shear-værdier. Så luften er meget instabil.
Man kan sammenligne det med en knastør skov, hvor en gnist kan antænde det hele i løbet af et øjeblik.
"SUPERCELLS WOULD RAPIDLY BECOME SEVERE WITH VERY LARGE HAIL AND TORNADO POTENTIAL. STRONG TORNADOES CERTAINLY A POSSIBILITY IN WRN KS GIVEN THE HIGH CAPE/SHEAR ENVIRONMENT EXPECTED TO BE IN PLACE BY LATE AFTERNOON.
"
Vejrsituation er følgende: Et højtryk i den østlige del af USA medfører tørke, mens et lavtryk over den vestlige del skaber sydvestlige vinde i højden, samtidig med at det blæser fra sydøst nede ved jorden. Altså favorable betingelser for dannelse af kraftige tordenbyger.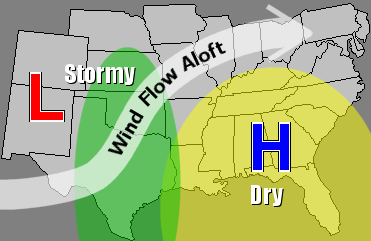 SPC havde da også udsendt et moderate risk-varsel: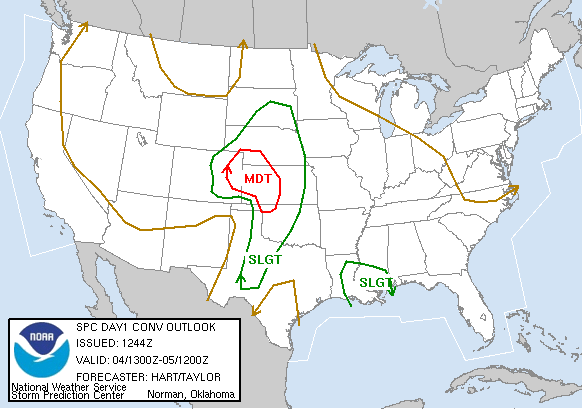 Moderate risk-varsel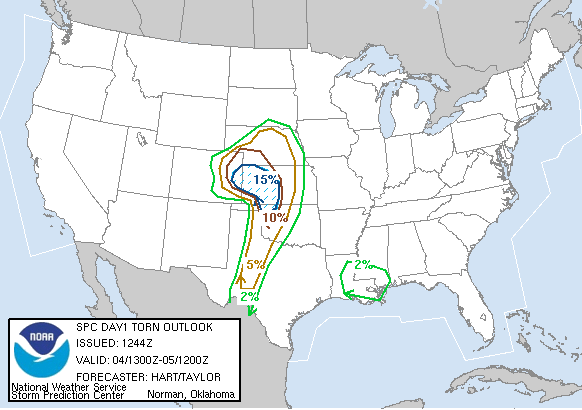 Tornadorisiko
Der var mulighed for store hagl og kraftige tornadoer i løbet af eftermiddagen over det vestlige Kansas. Dagen startede i nærheden af Dodge City, Kansas, hvor Paul fra Warmsector forklarede os, at der kunne ske to ting: enten ville der lige pludselig begynde at poppe byger op sporadisk over det hele, eller også ville der kun dannes ganske få
superceller
, der ville blive så store, at de ville suge al den omkringliggende energi til sig.
"Your arrival time is imminent, Greensburg,
this storm is knocking on your door!"
Diverse videoer fra YouTube omkring Greensburg-katastrofen:


Historisk gennemgang af katastrofen
Meteorologisk dækning af hændelsen af tv-stationen KAKE
Et lille udsnit af den genopbygning, der har fundet sted